"Building a good customer experience does not happen by accident, it happens by design"
Over the years manufacturers have evolved from simply selling industrial products, to the provisioning of replacement parts, repair, maintenance, and digital services for the equipment they sell. This aftermarket offering has not only become a lucrative source of revenue for some organisations, but has been the opportunity for some manufacturers to build a well-oiled service experience that their customers have come to expect.
Manufacturers are still facing a wealth of challenges. Having survived Covid-19, and the International lockdowns, they are still tormented with issues within the global supply chain. Manufacturers are also suffering with B2B customers comparing service levels with those in the consumer realm, and there is an expectation that manufacturers provide a similar experience. Research from HBR, has shown that B2B customers are not only willing to pay more for a great customer experience, but those customers will stay loyal which is critical when 65% of a company's business typically comes from existing customers. Every experience a customer has after they've purchased a product will determine if they continue to purchase and repair, or switch to an alternative supplier.
So, how can manufacturing companies stand out from the crowd, and deliver a unique aftermarket service that sets them apart?
High-performing companies have found that investing in the customer experience and the after sales function is a step in the right direction when focusing on aftermarket growth. For original equipment manufacturers (OEMs), the aftermarket opportunity can be substantial. Research from McKinsey in 2019 found that in "most industries, the percentage of customers who purchase services in addition to equipment is low. In agriculture, for example, aftersales among even the highest-performing manufacturers typically cover less than half of the installed fleet, on average. Other industries, such as power generation equipment, small electrical equipment, and civil aerospace, show huge disparities between low and high performers, with best-in-class players exceeding 80 per cent after sales coverage. That leaves significant room for manufacturers to improve.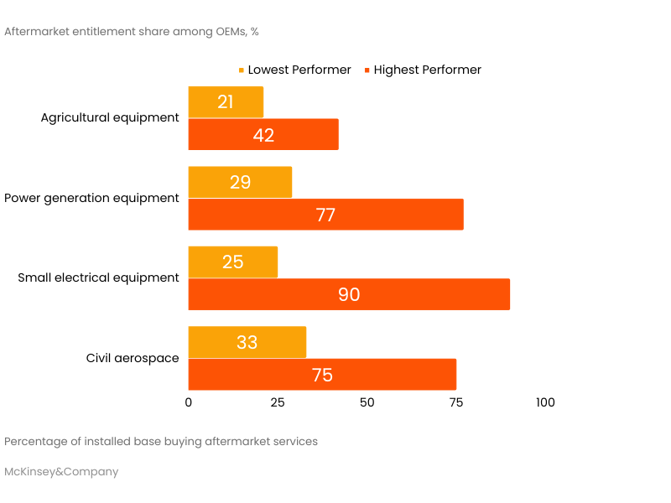 Whilst most organisations recognise the importance of a great customer experience, it can be challenging to implement.
Having a starting point, and effecting change in traditional business with historic processes and practices can be a struggle. Some manufacturers believe they don't have the extra sales force to focus on parts and repair, when the sales team is responsible for larger revenues from unit sales. Others wrongly believe that it takes a strategic rethink and effecting mass change in order to change direction.
Neither are particularly true, focusing on the aftermarket can be done relatively easily, by placing the current customer at the heart of the organisation and understanding their purchase behaviours through data and analysis.
Who's responsibility should it be for understanding the customer and creating this customer-centric approach?
Departments can act in silo whilst managing other business needs; new product releases, changing customer needs, new acquisitions, advancements in technology, new inventory controls. Manufacturers who hope to provide customers with a competitive aftermarket experience should ensure departments are working collaboratively to collate the customer data for analysis.
Technology can make a significant difference here. Manufacturers can look for technology tools that empower sales, marketing and IT departments to collaborate effectively and coordinate their efforts in correctly understanding customers.
Marketing technologies should deliver tools that create real revenue opportunities through upselling, cross-selling, and recurring revenue models. It should also have analytics features that enable marketers to gain a better understanding of how corporates are purchasing.
Implementing a customer-centric methodology is one of the key areas to focus on when re-assessing customer experience and aftermarket services. If you are looking for some inspiration on where to start and the key tactics that can make a difference, the engineers at SamsonVT have put their heads together and come up with the five key tactics that could quickly make a difference to your organisation.
1. Thank your customer
After each product is sold to a customer, there should be a step in the aftermarket process that reaches out to new or returning customers thanking them for their business. The communication that is sent to the customer should be personalised and tailored to them whether they are an individual or part of a group. Give them all of the relevant information they might need; how they can contact you, explain how to file any warranty claims and tell them who they need to contact for future parts queries.
Email marketing can play a fundamental role in managing the experience your customers receive, providing links to your website, or any other eCommerce tools you may offer customers can make life easier. It is a critical first step in the customer being able to identify where to find you and any support on offer once they've put your equipment to work. First impressions count and for new customers, an integrated onboarding experience can really help you stand out against the crowd.
2. Provide Customers With A User-friendly eCatalog
Make things as easy and efficient for your customers as you can. An online parts catalogue such as Partful, gives you the chance to engage and showcase your parts offering to customers within an easy-to-use interface.
By adopting a digital parts catalogue, you can really make the most of the following:
Make sure customers can find all of your products in one place.

Easily keep up-to-date bill of material catalogues that allow you to add 3D drawings for easy parts identification.

Reduce customer support costs. Give your customers a tool so they can easily identify parts and their relevant information.

24/7 availability. Regardless of the day or the time, your eCatalogue remains live so your customers can do business with you anywhere, anytime.
3. Use eCommerce To Boost Your Sales
Being able to reach your customers across multiple channels will help customers do business with you regardless of location, timezone or language.
If you think most of your future sales will be in-person or over the phone, it won't be for long. Customers have high standards, and their expectations are forever increasing.
According to a Forrester Research Inc. report:
The $1.134 trillion eCommerce sales in 2018 was 18.9% higher than the $954 billion they projected for 2018

By 2023, they project B2B eCommerce sales to hit $1.8 trillion

B2B clients spend more overall when they interact with multiple sales channels
Using something simple like an online parts catalogue that empowers your customers to instantaneously find the part they need, without having to pick up the phone to the parts department, is the latest in the evolution of the manufacturing industry.
Online parts catalogues come in many guises and the modern ones that have integrated eCommerce functionality like the one provided via Partful, give customers the option to purchase there and then. Partful has helped manufacturers increase their parts revenue by over 150% by giving customers direct and immediate access to the parts catalogue.
4.
Use your customer data to better understand them
Manufacturing can be a volatile industry with external challenges that not everyone can predict. The cost increase of raw materials, the closing of global factories and industries due to the pandemic, issues with shipping and exchange rates. These challenges can make it difficult to predict stock and future demand.
However, with the right analytical tools you can begin predicting customer trends and demand well enough to minimise any risk:
Real-time data:

OEM's not measuring customer shopping behaviour online are failing to tap into widely available real-time product data, which gives moment-to-moment insight on product trends.

Using customer data from your e-catalogue:

Analyse purchase data and customer habits by tracking eCommerce behaviour. This

correlated information can sometimes be the first step in identifying

faulty parts or products.

Predictive analytics:

with professional help, you can begin to find the

patterns in your aftermarket trends and be better prepared for sudden future changes.



5.
Listen to your customers
The final step in a truly customer-centric methodology is to put feedback methods in place to listen to your customer feedback directly. Historically information jotted down as part of a quick parts call, or feedback delivered via a dealer or other non-OEM parts provider has sufficed. With the advancements in technology, software platforms are able to automatically harvest customer feedback for you. E-catalogues such as Partful can equip manufacturers with the means to ask for feedback on products, parts and their experience of the aftermarket service. Giving customers a method to voice their feedback can empower them, building customer confidence and loyalty.
During this looming period of economic uncertainty, the customer mindset to fix a broken product rather than purchasing a new unit will deepen. Now is the time for growing manufacturers to explore how they can design a winning aftermarket strategy, secure their chance to get ahead of the competition and increase revenue and profitability.